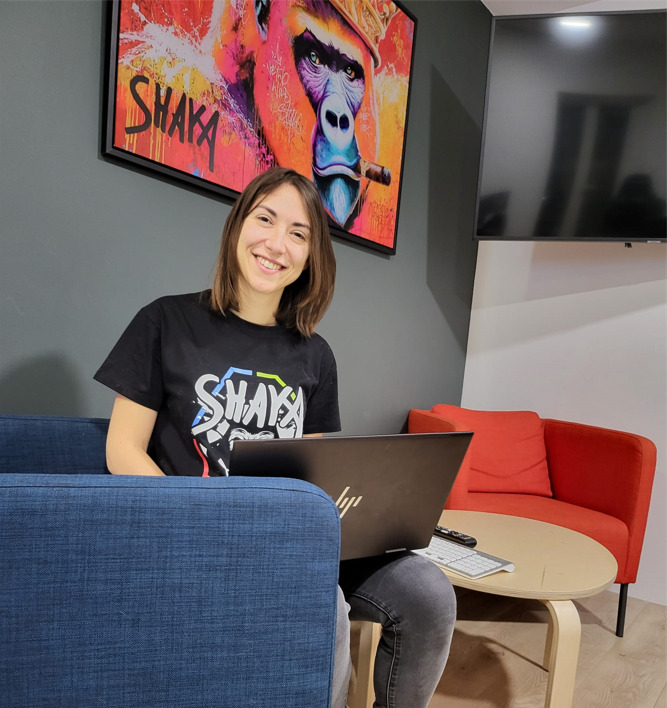 The office team is happy to welcome its latest recruit. Fanny comes to reinforce the Shaka Team as a project manager. The organization of the field missions and the follow-up of the customers' requests are at the heart of her new function. Here are some lines to get to know her better.
How did you hear about Shaka-Group?
Just like Lucas, I saw an advertisement on social networks. I was intrigued by the job description and I contacted Yannick with whom we had a good chemistry. However, at the time, he had already found an ideal candidate for a project manager position (Lucas). Nevertheless, I was not discouraged, because Yannick implied that he might need reinforcements soon, given the evolution of Shaka-Group.
Shortly afterwards, I decided to contact him again to meet him and exchange with him about his company, its philosophy, its projects, my career path… My good impressions were confirmed. A few weeks later, he contacted me again to tell me that a position had become available within his team and he asked me if I could join Shaka-Group in January. I seized the opportunity and here I am!
What made you decide to join us?
My first contact with Yannick was good and I understood that I could quickly find my place within Shaka-Group. From the beginning, I felt a great team spirit and mutual aid. The position itself and the possibility of evolving in my missions and responsibilities finished convincing me.Even though Yannick had already found the right person for the job, I immediately had a good feeling, as if it was only a temporary setback. It was with this in mind that I decided to ask him again a few weeks later and as time proved, my hunch turned out to be right!
What is your mission for the coming months, what position do you hold?
I joined the company as a POS project manager. My role is to accompany and advise clients on the implementation of their POS advertising projects. I have to make sure that projects are well coordinated and managed, before, during and after the deployment.
Initially, I will be assisting Adrien on his projects with European clients, but I hope to become more independent and manage my own clients and bring in new ones.
I have some experience in the world of communication but I had never had the opportunity to work in the sector of shopfitting and POP. It's a great opportunity with many challenges ahead that I feel ready to take on!
How did your integration go?
I immediately felt well integrated in the Shaka team. You can feel a real dynamism that makes you want to get involved and go beyond your limits.
I immersed myself very quickly in the Shaka spirit, notably by starting with a photo shooting session at the Tease Production studio. It could seem intimidating but it allowed me to be instantly in the exchange with my colleagues and to "break the ice" very quickly!
Afterwards, I had the opportunity to work in the Shaka offices in Belleneuve with Yannick and Audrey. I also joined Adrien punctually for friendly sessions of telecommuting. Moments of exchanges which allowed me to understand better the stakes linked to the POS sector and to approach in a concrete way my future missions and responsibilities.
What do you think you bring to the company?
I think I can become an asset for Shaka thanks to my relational qualities and my adaptability. These two essential qualities have been a real engine in my development and I think they will be determining in my next evolution.
On the other hand, I am curious and proactive by nature, which has always pushed me to search and discover new domains, to learn and to deepen my skills, and this, in my professional life. In short, I hope to bring my "Swiss Army knife" side!
Can you tell us about your career path?
I studied at EFAP, a communication school in Paris.  Through the many internships I did, I was able to quickly discover the professional world and its different issues.
I have always been fascinated by intercultural communication and the field of international relations. It is this passion that pushed me to pursue part of my studies in foreign countries. I studied in Japan and did an internship there before studying in New York and obtaining an American master's degree in communication. I worked in different environments (companies, small and medium-sized businesses…), in different sectors (events, audiovisual production, press relations…) and also different countries (France, Japan, United States, Italy…). I was confronted with many professional issues and I learned a lot from the experience of my peers. This atypical career has allowed me to constantly challenge myself and to acquire a 360° vision, which I hope to bring to Shaka-Group.